ABOUT STARGAZER EQUESTRIAN
FOR THE STAR IN YOUR BARN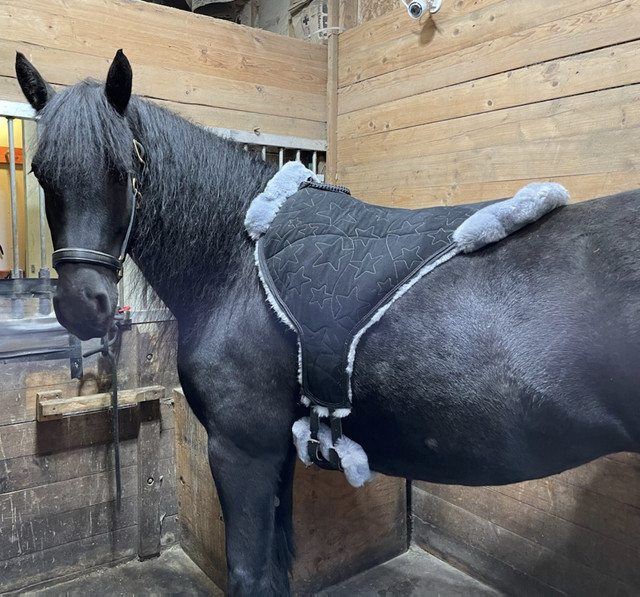 OUR MISSION is to promote stirrup free riding comfort and stability for horse and rider through
Superior design and materials
Technology to enhance function and durability
Attention to detail and design
Responsible management of resources
Goalsetting
Active communication with our customers
Zealous focus on Integrity
Education and Information sharing regarding our products
Respect for our customers, our employees, and the environment.
All Stargazer products are handcrafted in Oregon, each piece cut and sewn individually. Every Equiseat is created with pride which shows in the attention to detail and quality workmanship. We use the finest materials available from the USA and NAFTA approved sources. All our products are individually crafted for appearance, function, and durability. All metal parts are solid stainless steel. Triple stitching assures durability. Please see the descriptions attached to the products for details in design.
Technology and biokinetics work for you
The Carousel Edition's genuine Ultrasuede® quilted top provides technically advanced thermoregulation and a textured grip in addition to being a gorgeous accent to your horse's natural beauty. It is a marine quality uphostery fabric which is extremely durable and colorfast quilted with our signature pattern onto an open celled fabric which was developed for use cooling large engines in the aeronautic industry.
Rubberlite® viscoelastic foam inserts cradle you in comfort, enhancing balance and posture while providing your spine and your horse's spine the benefits of impact and pressure relief. You will notice the difference in your ride immediately. This high performance memory foam is open-cell which allows it to breathe, another benefit to your horse as heat is allowed to escape through the fleece and Ultrasuede. These panels are separate to provide spine relief for your horse, and can be removed for cleaning. Vacuum or brush hair off and soak in clean water, allow to air dry to remove sweat if your pads begin to feel stiffer over time. do not use detergent as it will clog open cell construction
Our girth system supports your horse's comfort and respiratory function. Our long girth panel and girth strap placement follow the muscle groups beneath them, allowing the elastic girth with stainless steel roller buckles to sit back from the elbow. This provides a snug fit without constricting the fragile ribs or impeding range of motion. Your girth is included in your purchase of any Equiseat, and custom fitted to your horse.
The polyester handles are sewn across the pad for easy access while riding or carrying the Equiseat. Do not hang your Equiseat by the handle.
Stargazer's extra long 26" billets provide stability and the ability to accomodate a range of sizes for those of us with different horses. They tuck into your girth cover. Billets are sturdy leather or biothane depending on the Equiseat version.
Solid stainless steel dees for breast collar and crupper attachment included.
PRODUCT DESCRIPTIONS
The Carousel Edition's Premium version's base of the finest quality of sheepskin available supports pressure relief, thermoregulation and circulation through the natural fiber's loft. Each side of the Equiseat is created intact from a full hide for structural integrity and minimal seam lines. Your hides are matched as closely as possible for color and consistency of the fleece. We recommend keeping your sheepskin in a temperature and humidity controlled environment and cleaning regularly. A shop vac works well to clean and fluff your dry sheepskin after use. We also recommend brushing with a wire pet brush to maintain it's appearance and therapeutic function. Leather billets. JW Watt floral dees embellish this version.
Carousel Edition's Carefree ( our Vegan version ) is identical to the Premium with the substitution of our lovely medical grade polyester fleece which is a hyopoallergenic and antibacterial material created here in the USA i. It's perfect for the adventurous rider….it is machine washable! Just pull out your foam inserts and wash on gentle cycle, very light on the detergent. Air dry, then vacuum or fluff with a wire pet brush to maintain the fleece's appearance and therapeutic function. Often you need only to vacuum to restore the original appearance and maximize circulation and pressure relief for your horse. Biothane billets. JW Watt dees embellish this version.
The Gypsy Edition is our sportier, less expensive version…identical in pattern with the Carefree version with exception of the top seat. We use ETC® which is a fabric used in the manufacture of athletic shoes, designed to breathe with exceptional durability. The dees and handle are a simpler design also. Biothane billets, solid stainless steel dees, medical grade polyester fleece.
Stargazer Stability Set includes our coordinating Breast Collar created with strong comfortable polyester webbing edged with flat braid and featuring JW Watt's floral rin. triple stitched with solid stainless steel rings amd clip.
Stargazer Signature Lead Rope and Reins are a gorgeous thick glossy black flat polyester braid enhanced by our custom stainless steel clasp featuring our logo pony. Custom lengths available.
All workmanship and material defects guaranteed for 3 years, and we are able to make any repairs for cost to you after that. You can contact us at our primary email address, Stargazereq@gmail.com, and will receive a quick response from Ellen, CEO of Stargazer Equestrian.
Disclaimer: As with all equine activities there is inherent risk of death or injury involved in the use of this product. Buyer assumes all risk upon purchase, holding seller harmless from liability. Seller assumes no responsibility for the use of the product. Use of appropriate caution and safety gear is recommended.